WowGo KickTail (35") Electric Skateboard
Regular price
$703.00
Sale price
$569.00
Save $134.00
/
Tax included.
Shipping
calculated at checkout.
---
WowGo 2S KickTail (35") Electric Skateboard
WHAT'S NEWS ON WOWGO 2S (KT) 
UPGRADED BATTERY - The WowGo 2s has an SIGNIFICANTLY improved battery (DOUBLE discharge rate than Samsung 22P cells) which allows you to maintain high speeds, even as your battery is running low.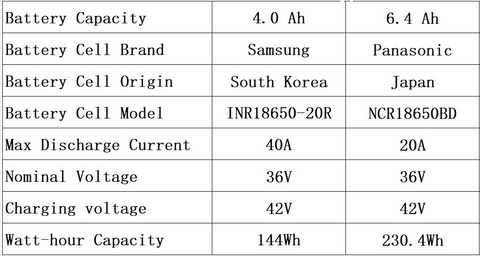 UPGRADED ESC-The WowGo 2s has a better ESC, it's waterproof and it brakes and accelerates smoother.
WHEEL REMOTE-Better feeling when you control the acceleration and brake,4 battery indicator.
UPGRADED BEARING Zealous bearing, Pushable and much less Resistance, get an extra 10% range with same battery.
UPGRADE BUSHING-Soft bushing,Better shockproof effect
UPGRADE PU ON MOTOR-Durable PU
THE PERFORMANCE OF WOWGO 2S(KT)
RANGE
Powerful Samsung:10-12 miles(16-19.3 km) 
Panasonic 6.4 Ah Battery:12.5-14 miles(20.5-22.5 km)
Measured by Aiden (65 kg rider), and the actual range will be affected by road conditions, the rider weight, temperature (via affect battery cell performance) .etc
TOP SPEED
Fast mode:38km/h
Middle mode:30km/h
Slow mode:20km/h
UPHILL
25%-30%
Max Load
Kick-tail deck: comfortable riding feeling and you will get a better turning.
Material: 7 layers of maple + 1 layer of bamboo 
Length: 90 cm (35'')
Max load: 330 pounds (150kgs), and recommending riding weight is 264 (120kgs) pounds and below
REGENERATIVE BRAKING - Our intuitive system charges the battery as you brake.
Weight
16.5 lb(7.5 kg)
Warranty
6 months
WHAT'S INSIDE THE BOX
1 x Completely Assembled WowGo Board
1 x remote wireless control
1 x pair of extra Foam for you to do deck swap 
1 x adapter and charger(US, AU, or EU plug according to your location)
1 x T wrench tool for daily maintenance
1 x WowGo Hook
1 x Rear LED light
WOWGO KT SPECIFICATION 
Speed
 ● 1 Slow mode: 0-12miles/h(0-20km/h) 
 ● 2 Normal mode: 0-18miles/h(0-30km/h)
 ● 3 Fast mode: 0-23miles/h(0-38km/h) 

Hill Climbing
 ● 25-30%

Range
 ● 4.0Ah: 10-12 miles(16-19.3 km)
 ● 6.4Ah: 12.5-14 miles(20.5-22.5 km)
 ● 8.5Ah: 15.5-19 miles (25-30 km)

Bearings
 ● Brand: Zealous

ESC
 ● Brand: Hobbywing
 ● Waterproof & Dustproof: Yes
 ● Features: Very smooth when accelerate and brake

Remote
 ● Ride Modes: 3 ride modes

Motors
 ● Size: 90*56 mm
 ● Rated Power/Each: 250 W
 ● Peak Power/Each: 375-500 W

Wheels
 ● Dimensions: 90*52mm
 ● Hardness: 82 A

Deck
 ● Dimensions: 90 cm*23 cm
 ● Material: 2 layers of bamboo+6 layers of maple
 ● Load: 150kg max load, Recommend below 120kg

Charger
 ● Input: 100-240V,50-60Hz, 2.5A
 ● Output: 42V, 2A
 ● Charging Time: 2-3 hours

Weight
 ● Board Weight: 7.6kg
FAQ
Q:How water resistant is this board?
The board is not waterproof. We recommend that you ride around water and stay away from wet or icy surfaces, the water could damage the Board. And riding on wet and icy surfaces is extremely dangerous, as you will easily lose control of the powerful board.
Q:Do I need to charge the battery when I receive the board?
Yes, you need to, but not required. Because the battery is not fully charged before leaving the factory (to protect the battery during Long-distance shipping).
Q:How much weight can WoWGo carry?
The max load of WowGo is 280 pounds (150kg).
We do recommend a maximum weight of 264 pounds (120kg) and below, as weights above that might have an impact on performance and speed.
Q:How to adjust steering sensitivity?
You can adjust the tightness of the nut at the front of the truck by using a T wrench. Loosen the nut to make the steering flexible. Tightening the nut will make the steering clumsy.
Q:How can I pair the remote to the board?
It's easy. 1, Turn off the board and remote. 2, long press the power button of the board and the remote at the same time for more than 5 seconds. 3. When the remote vibrates. It shows it's paired. 
Q:How to re-set the OLED remote display from kilometres to miles?
Please re-pair the remote to the board and then you will see the option (km or miles), double-click the power button on the remote to confirm the selection.