ZETAZS 10 Inch Electric Scooter
Regular price
$870.00
Sale price
$736.00
Save $134.00
/
Tax included.
Shipping
calculated at checkout.
---
ZETAZS 10 Inch Electric Scooter

7.8Ah BATTERY Range:

 25

-30km
10Ah BATTERY Range:

 

35-45km
14Ah BATTERY Range:

 50

-60km
*Tested on  60kg rider 60% speed flat road
Lights SYSTEM:

 

StVZO Headlight + taillight(Braking function) + chassis light
Technical characteristics

CE, FCC, ROHS certification;
The whole product belongs to ZETAZS design & manufacture, exclusive private mould;
Exclusively designed quick folding system;
Front parts made of ultra-lightweight polymer engineering materials;
Exclusive patent, ultra-sensitive tail buffer system;
The ZETAZS team exclusively develops the electronic control system;
Equipped with a fuse, a more advanced safety factor, which can completely cut off the power supply from the circuit, and doubles the safety of transportation and placement;
Equipped with a battery activation socket, 80% chance of reactivating the battery in case of over-discharge;
German STVZO certified headlights and taillights;
CNC precision bearing disc brake;
CNC folding joint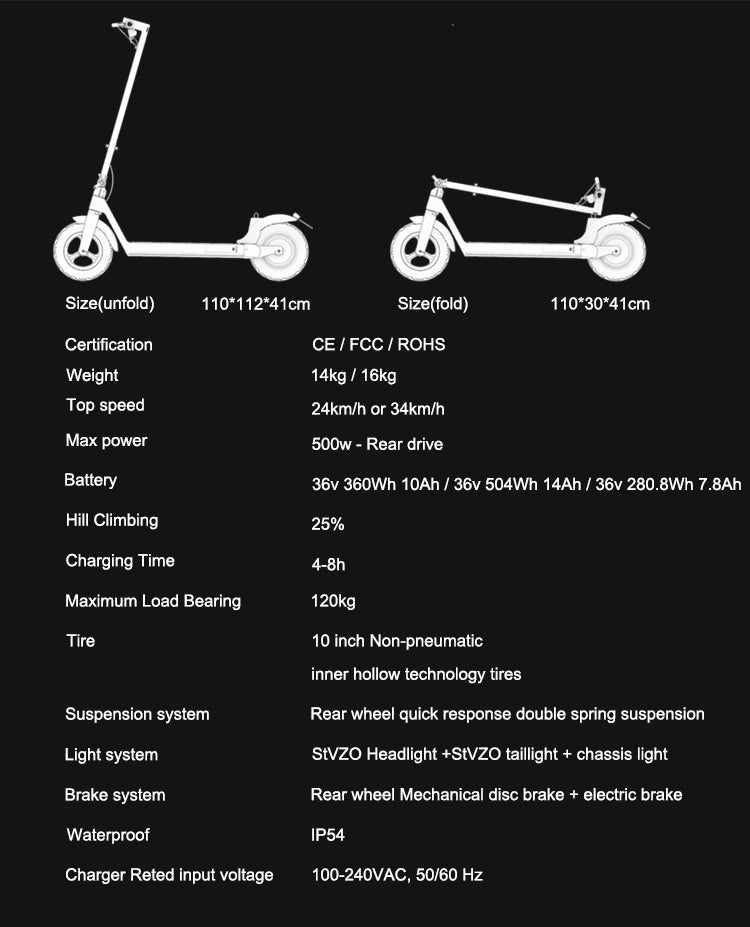 BEAUTIFUL AND RELIABLE ELECTRIC SCOOTER
All aviation-grade aluminium alloy frame, lightweight;
Engineering analysis structure design, strong and durable;
Simple appearance design;
Hidden wiring, beautiful and can effectively protect the wire;
Fast and smooth innovative folding system;
Safe and reliable high-quality battery pack and electrical components;
Stable precision algorithm intelligent control system;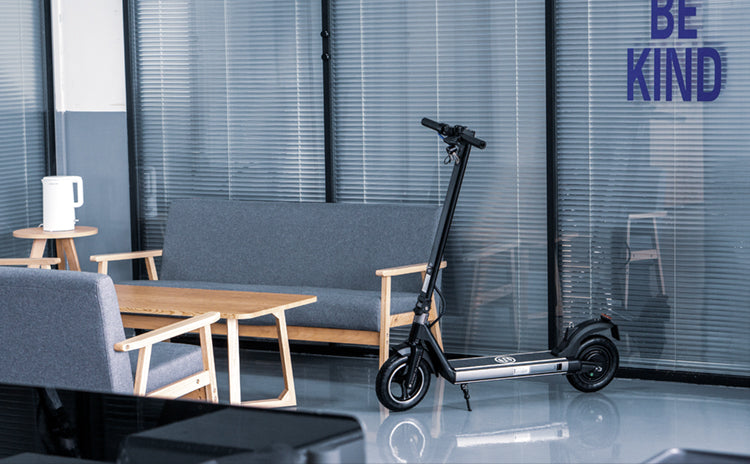 COMFORTABLE DRIVING EXPERIENCE
10 inch Non-pneumatic inner hollow tires, better passing performance, without worrying about tire leaks;
Inner hollow technology, improve the shock absorption performance of the tire, and get better weight reduction;
Non-slip treads to improve grip more effectively;
Super sensitive patented double spring rear buffer structure;
140mm width +470mm extra long pedal, stable and comfortable standing space.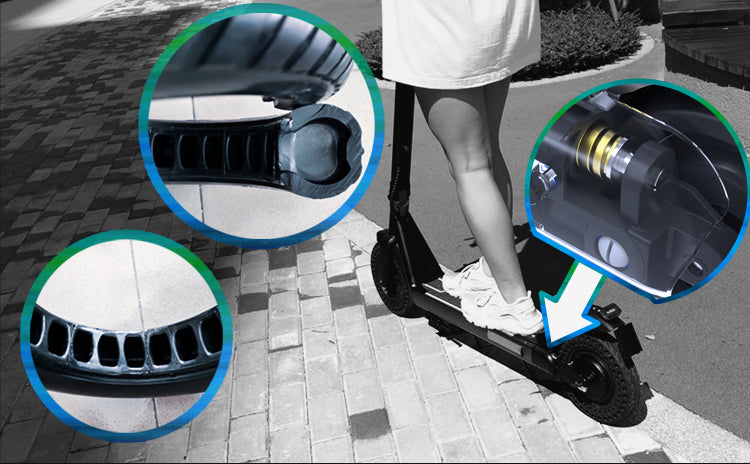 EXCELLENT POWER + SAFE AND STABLE ENERGY SUPPLY
500w max power rear-drive motor;
The maximum speed of 34km/h (orders required by German regulations can be limited to 20km/h);
Large capacity 10Ah or 14Ah battery pack that meets safety certification;
BMS battery management system to fully protect and monitor battery operation;
High-quality electronic components + precision software algorithms, stable and efficient;
The battery pack automatically enters the low power consumption mode after long-term storage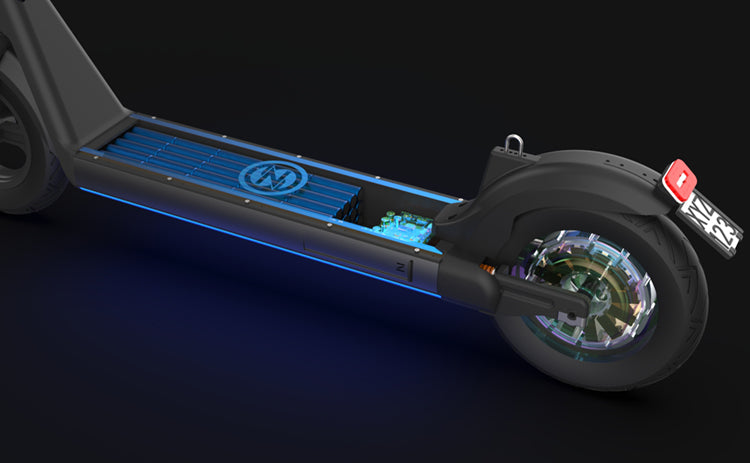 SIMPLE VISUAL CONTROL
The speed, power, light, and speed units are clear at a glance;
One key can control various functions simply;
Three speed modes can be selected;
Stepless speed controllable dial-type throttle, the speed is simple and controllable;
Mechanical + electric power synchronous brake handle, stable and reliable;
Double-bearing head bowl, flexible and smooth steering;
Turn to the safe limit angle, don't worry about the hidden danger caused by the handlebar turning circle.
SIMPLE AND FAST FOLDING SYSTEM
Quick folding, can be folded by pulling lightly;
The handlebar is folded and locked, no additional accessories are needed, and the handlebar is folded down to prevent the handlebar from rotating and shaking;
Quickly unfold, press to unlock;
The virtual position of the folding buckle can be adjusted, which is easier for later maintenance.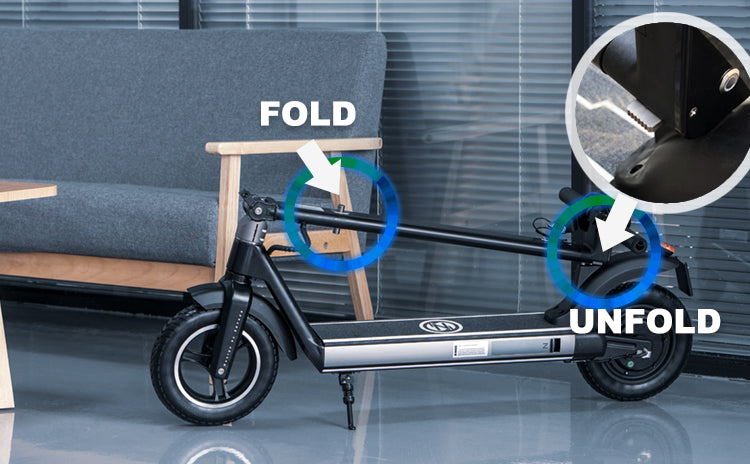 SAFE AND RELIABLE ELECTRIC ENERGY + MECHANICAL DOUBLE BRAKING, ENERGY RECOVERY
Using sensitive mechanical disc brake + intelligent linear electric brake system, the brake is safer and more reliable;
The disc brakes are processed by CNC, and the internal bearing structure is adopted, and the brakes are more lubricated and easy to control;
Intelligent electric braking system, precise algorithm provides proper braking energy according to the strength of brake lever pressing;
Energy recovery, it can return more than 10% of the feedback current to the battery pack when braking, effectively prolonging the battery.
SAFE AND BEAUTIFUL LIGHTING SYSTEM
Pass the German StVZO standard, highlight the front and tail lights;
Double LED blue lights on the chassis;
The design of the headlights with reflectors improves safety;
The tail lights are always on automatically after starting up, the brakes are highlighted, and the safety is increased.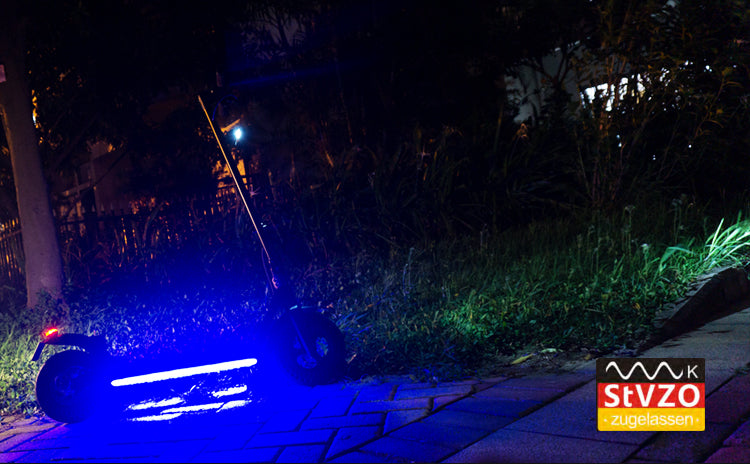 IMPROVED SAFETY SYSTEM AND BATTERY MAINTENANCE FUNCTION!

Fuse: Protect the battery pack;
Battery activation socket: When preventing excessive discharge for a long time, the repairer can activate through the socket to increase the battery life![1]
[1]Battery activation must be performed by professionals in an officially authorised repair centre, and cannot be operated privately (improper operation may cause a risk of burning). This function has a certain probability to activate the battery, but it does not mean that it can be successful under any circumstances.